Fans of Gossip Girl will be in their element in the Big Apple. Whether you're looking for Constance Billard school for girls, Columbia University, the Humphrey Loft, or the Archibald townhouse – you've come to the right place to scout out Gossip Girl locations across New York City. If you're short on time or would prefer the hard work be done for you, you could also consider taking the Gossip Girl Tour of New York City for a modest $42.00. So without further adieu, I give you the must see Gossip Girl sights in and around NYC…
Grand Central Terminal
The all important pilot shot is perhaps the series most memorable – Serena Van der Woodson enters Grand Central Terminal right before her official return to NYC. It's also a stunning display of architecture in its grandeur design – and a must see for visitors to New York.
Address: 89 E 42nd Street, New York City
Phone: 212-888-7000
Website: www.grandcentralterminal.com
New York Palace Hotel
Home to the Van der Woodson's and affectionately known as Serena's lair – the New York Palace Hotel is an icon in the Gossip Girl series. The restaurant inside 'GILT' is also known for the scene where Serena enjoys a grilled cheese – a popular item from the menu for fans of the show.
Address: 455 Madison Ave. (50th/51st Streets)
Phone: 212-878-7034
Website: www.newyorkpalace.com
Metropolitan Museum of Art
More commonly known as "the MET steps" where Blaire often enjoys lunch with her minions.
Address: 1000 Fifth Avenue at 82nd Street
Hours: Tues-Thurs & Sunday 9:30 a.m.-5:30 p.m.; Fri & Sat 9:30 a.m.-9 p.m.
Phone: 212-535-7710
Website: www.metmuseum.org
Museum of the City of New York
Used in the tv series as the entrance to Constance Billard School for girls and St. Jude School for boys.
Address: 1220 Fifth Avenue at 103rd St.
Hours: Tuesday – Sunday: 10 am-5 pm, closed Mondays (except holiday Mondays)
Phone: 212-534-1672
Website: www.mcny.org
Dylan's Candy Bar
Not only is it the location for the scene where Dan and Vanessa shop for Nate's anniversary present, but it is also the largest candy store in the world and home to over 5,000 types of candy.
Address: 1011 3rd Ave
Hours: Tuesday-Sunday 6:30 a.m. until sold out(5/7 p.m.)
Phone: 646-735-0078
Website: www.dylanscandybar.com
Babycakes NYC
Used for the scene where Dan bumps into Serena and ends up dropping his desserts on the sidewalk in an attempt to stop S from getting in the car.
Address: 248 Broome Street (Orchard & Ludlow)
Hours: Sun-Mon 10 a.m.-8 p.m.; Tues-Thurs 10 a.m.-10 p.m.; Fri-Sat 10 a.m.-11 p.m.
Phone: 212-677-5047
Website: www.babycakesnyc.com
The Humphrey Loft
Affectionately known as the loft home of the Humphrey family – Dan, Jenny, and Rufus up until the third season, where Rufus moves in with Lilly. The loft is located almost directly under the Manhattan Bridge.
Address: 455 Water Street, Apartment #6, Brooklyn
Columbia University
While the only character that decides to attend the university in season 2 is Nate Archibald, we rarely see him there in his freshman year in season 3. In season 4 the Hamilton House is introduced, where Blaire and Serena are recruited into.
Address: Broadway, New York
Phone: 212-854-1754
Website: www.columbia.edu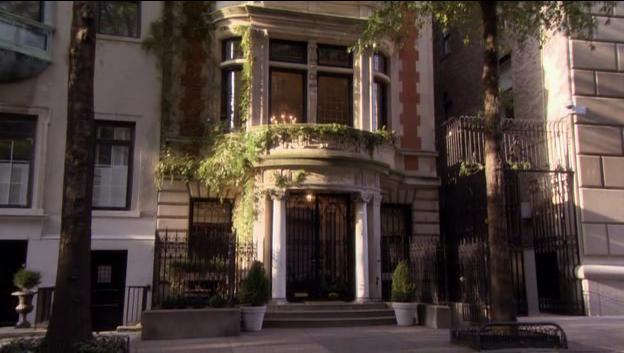 The Archibald Townhouse
The stately manor of the Archibald family is located just of 5th avenue and is a popular stop for fans of the show.
Address: 4 E 74th Street, New York
Empire Hotel
Mostly used in later seasons after Chuck Bass decides to invest in the hotel, the Empire Hotel is indeed a real hotel in New York City.
44 West 63rd Street