The hotel for people who don't like hotels.
Ellerman House Hotel Review
Normally when you go on a holiday you look forward to the idea of returning home to your own bed and all the comforts of home. There's just something about a trip away that makes you appreciate your own space and order in your own home.
At least I knew this much to be true before visiting Cape Town's most exclusive address on Kloof Road – The Ellerman House Hotel.
For the sake of familiarity I'm going to drop the 'hotel' from the name, because let's be honest, this private estate is as far away from the concept of a hotel as it could possibly be. With a room booked at Ellerman House, you should prepare to be treated like the VIP guests to a very welcoming party – complete with complimentary chauffeured transfers to and from the airport, complimentary in-room private bar, some of the best service you will find in the entire country (the only thing stopping me from saying this is the best service you'll find in South Africa is fear of sounding bias), and stunning views over the ocean from your private balcony.
The Special Touch
This is where you stay if you want to taste South Africa, understand South Africa, and experience South Africa.
I could list all the special features of Ellerman House one by one, but I won't recite them here and instead leave you to discover the list of features on the website.
I found the 'features' I loved most to be hidden in the experience of Ellerman itself, so I will instead focus on those and highlight what makes Ellerman stand out as a cut above the rest.
When shown around the property on arrival you will soon be introduced to a special room in the house located next to the kitchen – The Pantry.The pantry is open 24 hours and is stocked with homemade cakes and tarts, cookies, chocolates, drinks, and a nespresso machine. Yes, you will spend some time here.
But if you don't want to leave your room, the entire mini bar is included in your room rate and replenished daily.
You really needn't lift a finger while you're a guest at Ellerman, as even your laundry will be taken care of at no expense, and returned to you the same day pressed and hanging or wrapped in tissue paper for the delicate items.
If you're looking to understand the history of South Africa, what better way to do so than to walk through a living history in the art gallery – open exclusively to guests and renowned for being one of the most important South African art collections in the world.
Sure, there's the usual 24/7 gym, swimming pool, sun loungers, lush gardens… you name it, Ellerman has it covered.
But just when you thought you'd discovered it all you will hear about the wine cellar or the brandy tasting and you're again left baffled by how much this small 11 room hotel offers its' guests. One thing is for sure, when you walk through the door at Ellerman you are treated as a guest to an exclusive party — and you're the guest of honour!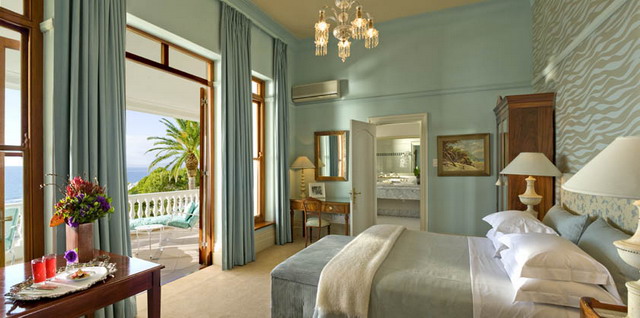 Room Rates start at: $550 per room per night

World of Wanderlust was welcomed to Ellerman House as a guest, however my opinion is as always, my own.