Escape to the countryside in cosy Constantia for a Cape Town getaway unlike any other.
 The Cellars-Hohenhort Hotel Review
Located on the slopes of Table Mountain, The Cellars-Hohenhort Hotel feels a world away in the leafy green oasis Liz McGrath has created. The hotel is situated in a residential area named Constantia, meaning it is far enough away from the business of Cape Town but easily accessed by a short car drive. While the popular V&A waterfront is a mere fifteen minutes drive away, you will find it most difficult wanting to leave the property itself. Here on the grounds of the hotel there are over 9 acres of lush green gardens, creating an enchanting experience that will remind you of your childhood years as you wander through the trees and get lost in what feels like a world away from reality.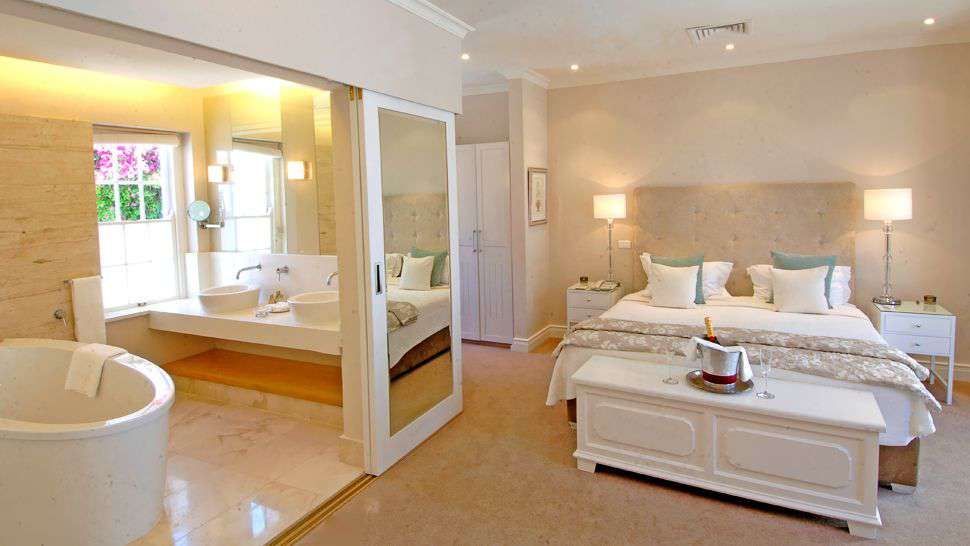 The Cellars-Hohenhort Experience
But I didn't fall in love with this place based on the location and structural offerings alone. It's something a little more complex than that – a certain type of magical allure on offer at Cellars-Hohenhort.
Once you have passed the security guard, you will drive through a setting so surreal that it could easily be confused for a film set. The property is large and colonial, but somehow manages to immediately feel welcoming and warm (despite my wintery visit in July!).
Once checked-in, I am shown to my room – The Dawn Suite – a gloriously feminine suite with neutral tones and playful splashes of a crimson pink (somewhere between pink and crimson red). It's not long before I am left to my own devices and begin making myself feel at home. With homely touches, it's not difficult to immediately feel comfortable and at ease in my new surrounds for the following three nights. I certainly wouldn't recommend you stay any shorter – this is a property you will want to enjoy for a few days, ideally accompanied by a few days to enjoy Cape Town and its' surrounds.
Highlights included long strolls through the leafy garden, which left me feeling incredibly inspired and a world away from 'the real world'; lavish and tasty breakfasts; the 'countryside factor'; and some of the best cuisine I have tasted in the entire country – definitely no need to leave the property for evening meals.
This is one of those properties you will want to keep returning to time and time again, for it feels so much like home and much less like a hotel or place of temporary residence. The team of staff are friendly and welcoming, but the Cellars-Hohenhort has such an appeal in the vibe and location alone that it could rest on its' own laurels.
Rooms from $320 per night
World of Wanderlust was welcomed to Cellars-Hohenhort as a guest, however my opinion is as always, my own.